So the holidays are here, and when they are not here, you can be sure of the fact that the holidays are going to return. For digital marketers and website owners, holidays are especially exciting because of the opportunities that come with it.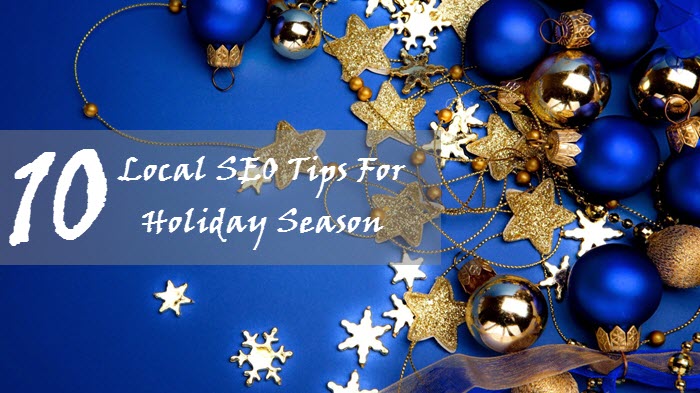 This is why we have come up with this post about local SEO. We present you with 10 most valuable SEO tips that you'll ever find for the holidays season.
10 Local SEO Tips For The Holiday Season:
Local Business Listings:

If you had been ignoring your business listing, now is the time to set things right. And you need to make sure that the listing is accurate because not, then you will be in deep waters, one that is hard to come out of.

Duplicate Listings:

Well, its a good idea took a look at your business listing this holiday season and see if there are duplicate listings. If there are, you need to get rid of them immediately. This is a good practice for local SEO for holidays.

Google Business Page:

Time to look at that Google business page that you made then ignored. You must brush up all information on the page and for sure, remember to add the hours.

In this holiday season, you are likely to have extended open hours, make sure you add in on the page for potential customers to know.

Pay-Per-Click Advertising:

Remember these advertisements are not regular ads and you need to make sure that you are using appropriate language to capture the attention of holiday buyers.

Keywords:

In the vein of the above discussion, do a little tweaking here are there and don't forget to use holiday-centric keywords because they are extremely essential in grabbing attention.

Google Posts:

A powerful local SEO tool indeed, the Google Post can be used as a form of advertisement of the sales, etc. of the holiday season. Here too use holiday keywords and be very specific about the season. This trick is sure to attract all potential customers.

Titles And Descriptions:

This holiday season you need to be extra careful about the posts or products that you put out into the world. You must make holiday-related keywords a primary keyword and must put them in the title as well as the descriptions of the posts or the products.

Analyze:

All the posts that you publish and the products that send out and the advertisements that you make must be closely monitored so that you can make the necessary changes when and if need be.

Only through studying the effects of the measure we take, can we grow a bit every year in the holiday season.

Tone Of Posts:

You will need to make sure that the website reflects the festive season. If you are using advertisements using holiday keywords and the customer comes in to find a usual bland site with no mention of holiday sales, they'll bolt, and your business will be a disaster.

Complaints:

Get ready to handle complaints. Don't worry; this is a good sign which means people are coming to your site, buying products and all your efforts for the holiday season is paying off.
How are you handling SEO for a local business this holiday season?