Search Engine Optimization is the key to getting success in the online marketplace. Every day one or the other technical SEO issue creates problems for the website owner. We are here with 5 easy but Smart SEO wins that would help you to boost your content and link building efforts without any hassle. Here we go.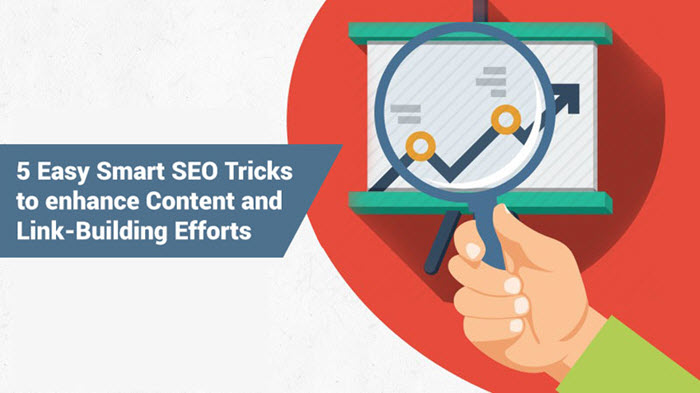 1. Broken Links To Your Website
Broken links can adversely impact your already running website if you have rebranded or switched to a new web design.You can lose some of your valuable customers who were the leaders of your business. In extreme case, website owners forget to redirect the customer to the new link and end up showing broken link. Work on these links and try to get your old customers.
2. Meta Descriptions
Meta-description is one such thing that helps visitors to get some brief information about your content. Well-organized description of your page can really help you to improve your ranking without putting much of the efforts in content or link building.
Most people visit meta-description once and end up leaving your page just because your meta-description wasn't so eye-catching. This is a big mistake. If you really want to promote your website actively then make sure meta-description of your page is perfect. Both the visitors and the search engine want to see the websites that have perfect meta-description.
3. Responsive Website Design
If your web design is desktop-friendly then you really don't need to work on the Responsive design of your site because Google doesn't consider this parameter for desktop search, but if your web design is mobile-friendly then responsive web design really means a lot.
Responsive website design are advantageous but for the mobile-friendly websites only. Any website designed keeping responsiveness in view is likely to get more exposure from audiences than the other websites. So, you must switch your web design to responsive one, if you haven't done that so far.
4. Internal Link Building
Internal links are almost similar to the outbound links. When you edit your page and upload new page, you can add the link to the old page in your content only. This helps you to cover the new as well as old content. It doesn't create much problem for the broken links or irrelevant links. The reason is that broken links doesn't end the person searching for your page to any information.
Related Post: 9 Link Building Tactics That You Need To Avoid In 2018
5. Page Loading Speed
Page loading speed of your website matters a lot. Most of the websites load within 6-7 seconds. If you want your website to stay in the competition then you really need to work on the same or less speed.
Page loading speed is one of the important page ranking factors that help the search engine to rank your page accordingly. Not only the search engine but the page loading speed also gives the users' the best experience of their life.
Wrapping Up
To see better results of your website, everyone needs to look after the fundamentals and basics of technical SEO to boost content and link building efforts.