In the online world SEO is the catch of the day, every day. For several blogging enthusiasts, the day begins with SEO and ends with SEO. There are several people who have dedicated their lives to learning the workings of SEO because it's a magic wand that can bring great fortune if you learn to master it.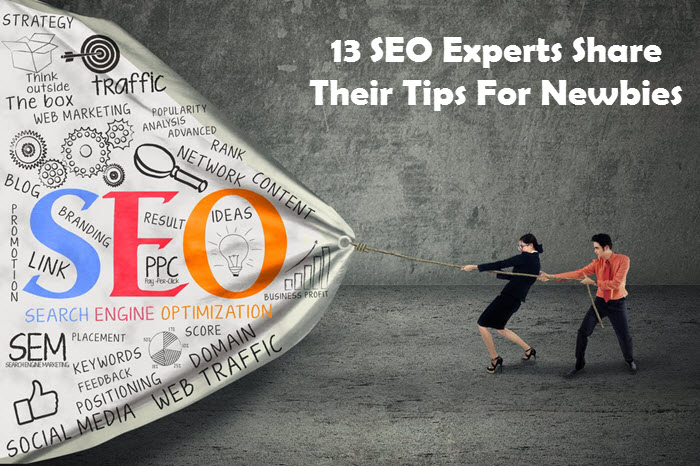 But newbies mostly find themselves hopeless, even daunting when it comes to SEO. Well, it takes a lifetime to master SEO, and sometimes even that's not good enough. So newbies ought not to be too hard on themselves.
To give newbies a helping hand, here we are listing down 13 SEO tips from experts that you will most certainly find useful and easy to attain.
Top 13 SEO Tips From Experts:
1. Coding:

It's a good idea to have at least a basic understanding of how a website works. It's alright if you have never touched coding, the basics are not too hard to understand. There are tons of free online classes.

2. Landing Pages:

You must master the art of ranking landing pages. These pages by nature are pages where the reader will typically land and are designed in that way. Optimization of landing pages is important to learn.

3. Sub Pillars:

There are three things that you should be doing seriously, and those are building authority, writing relevant contents and the technical aspects of the website, like how it works, how the landing pages work (both of which we have discussed earlier).

4. Network:

Being active on forums are nice but to meet people face to face once a while is recommended. Go to conferences once or twice every year.

5. Title & Meta Descriptions:

This comes from on-page SEO, and usually, the writers are responsible for the optimization of the title and meta description, but it doesn't hurt for you to know.

6. Log Files:

If you aim to be an SEO expert, you must develop an understanding of log files and how to analyze them. These are a tricky business, and it'll take you at least a few years to master it.

7. Be A Sponge:

Since you are starting out, we'd recommend that you see and observe everything and try to implement them. Use what works and disregard the rest. Use trial and error method.

8. Constant Change:

Any online business is an extremely changing platform, and SEO too is an ever-changing business. You must learn to be flexible and be comfortable with change.

9. Read & Research:

Read regular updates on Google and other search engines. Become familiar with all SEO related terminology. Learn to do research.

10. Trust The Data:

Learn to analyze your work and take your next step based on your understanding of the data at hand.

11. Clear Goals:

Whenever you start a project, ask your self what the end goal is. It's very hard to move forward with SEO if you don't have a clear goal ahead of you.

12. Tools:

Learn to use some of the basic tools for keyword research and analysis. There are avenues for cheap access to these tools. Make the most of them.

13. What Works For One, Doesn't Work For The Other:

That's right. It's a constantly evolving platform. You can never stop learning.
Share this post with other newbies and see if you can start a discussion. It's a great way to build a connection.