SEO professionals, it's time you should start using free Google tools if you really want to see your bright future ahead.
If you are interested in knowing some of the best and free Google tools, we will help you with the list of Top 10 tools: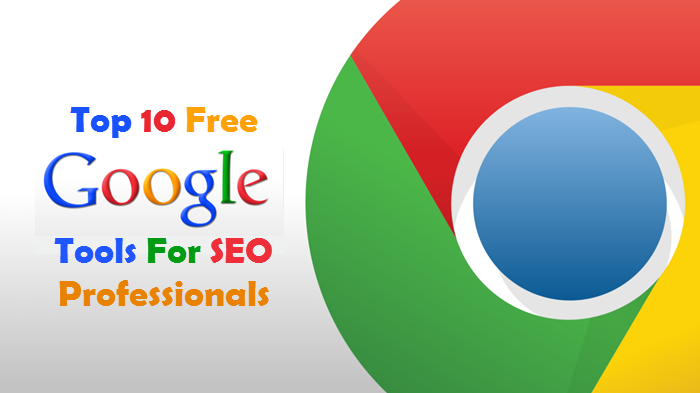 List Of Top 10 Tools:
Google Chrome:

This tool in fact browser doesn't need any introduction. If you are a real SEO professional, then you must be aware of the importance of using this free tool. If you think that every browser is same, then you are definitely fooling yourself. Google Chrome offer users better marketing opportunities than any other browser.

Google Correlate Tool:

While you are searching for new keywords, if you come across a tool that can take your web page ranking to a level beyond your expectations, then Google's correlate is one of the best tools for you.

Google My Business:

Using local SEO strategies is increasingly in demand. If you run a local business and want to popularize it, you can use a tool called Google My Business so as to make your website optimized around the search engines. This tool helps you to list your site under business websites to gain customers' attention.

YouTube:

One of the biggest video marketing platforms that professionals should never forget while promoting your online business.

Google Trends:

This is one of the favorite tools, but most of the SEO professionals take it for granted and tend to overlook it for one or the other reasons. But don't forget, this tool by Google can really help searchers to find keywords that come first to their minds.

PageSpeed Insights:

This tool by Google is one of the essential tools to improve your web page ranking. If your web page loading speed is low, users will get irritated unnecessarily, and they would simply leave your web page. As an SEO professional, it is your prime responsibility to introduce this tool if you really want to help your client's business get good ranking.

Tool To Check If The Website Is Mobile-Friendly Or Not:

Mobile usage is increasing day by day, and there is dire need to switch to mobile-friendly websites if a site owner wants to market his or her products to the people in masses.
Well, you can do a test called Google's Mobile-Friendly Test tool to check if your website is mobile-friendly or not.

Google Alerts:

This is a powerful tool to make your site more creative and intuitive. This Google Alert tool keeps you tuned with the competitive world.

Google Voice:

This tool is basically used by businesses that have more than one number of phone lines. Using this tool, all numbers can be routed to a single number so that no call is left unattended.

Google Sheets:

Google sheets help you to document your and performance so that you can watch your work report whenever required.
Wrapping Up:
Above are the 10 free tools that SEO Professionals shouldn't skip at any cost.