Many people say there is no difference between desktop SEO and mobile SEO. But actually it is far from the truth; there are many differences between them. So, as a SEO person, you should understand those differences.
Nowadays, majority of the people visit the internet through mobile devices rather than a desktop computer or laptop, especially when they are traveling or are at public places like restaurants, coffee shop, etc. Due to this, mobile search has increased in volume and you need to optimize your website particularly for mobiles.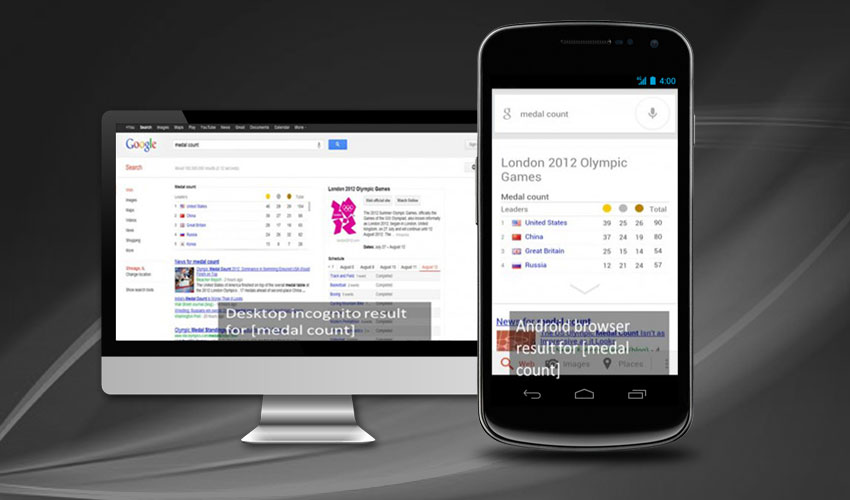 1. The Scrolling Aspect:
Usually a desktop computer does not need much scrolling compared to mobile devices. As a result, an SEO expert needs to put in more efforts to optimize a website.
In mobile devices, most of the users do not always search the results through Bing.com or Google.com. Instead they may use Bing apps or Google apps. Keeping this in mind, SEO people organize their website's interface for better experience and better navigation.
What I'm basically trying to say here is that desktop optimized websites are not good enough for mobile searches. That's because mobile search does not provide a zoom option, nor does it possess large tabs or buttons that are important for phone users.
2. The Less or No keywords Aspect:
Normally, the SEO people put in more efforts to produce a keyword rich text in order to attain a good search engine ranking. The same thing is applicable for mobile SEO as well but comparatively to a greater extent.
While searching on a mobile device, people are more likely to use only a few keywords compared to their search on a desktop computer. Sometimes, people never use keywords to locate something; instead they may use the camera in their mobile to click a picture and use the image to search for whatever they need. During such instances, the picture becomes the subject of the search. It especially works for films, books, logos and landmarks. So, it is significant that a company optimizing search must display their logo and attach it to their mobile website.
3. The Vertical Listings:
In mobile, the position of vertical results differs slightly when compared to the desktop. In the mobile, the image results appear higher. This shows that mobile search gives more priority to image results and local results. However, it may change depending upon the requirements of business.
4. The Filters:
Filters are an important difference between mobile and desktops. Their availability on mobile devices differs from the desktop. These are mainly images, videos, maps, shopping, news, etc.
5. Ranking Algorithms:
As I already said, the search result on mobile devices is completely different from that on desktop computer. Mobile users mostly click the link that is available on the first page and ranks higher since one has patience to scroll on to the second or third page, as opposed to desktop searchers. From this, you must learn that the first position matters a lot on mobile devices. So, while doing SEO for a mobile site, keep this in mind.
6. Location:
Location plays a crucial role in mobile searches when compared to desktop searches. Depending upon the location, searches are constantly changing in mobile devices.
Conclusion:
Many people feel that those who have experience in desktop SEO can easily do mobile SEO as well. But it is not true. Although the difference between them seems little, you need to study them separately.