Well, Bounce rate is one of the most valuable things that really matters on your website. If you are one of those who is still confused and thinking does bounce rate really matters, then you are here at the right place. For beginners, let us first understand what exactly a bounce rate is?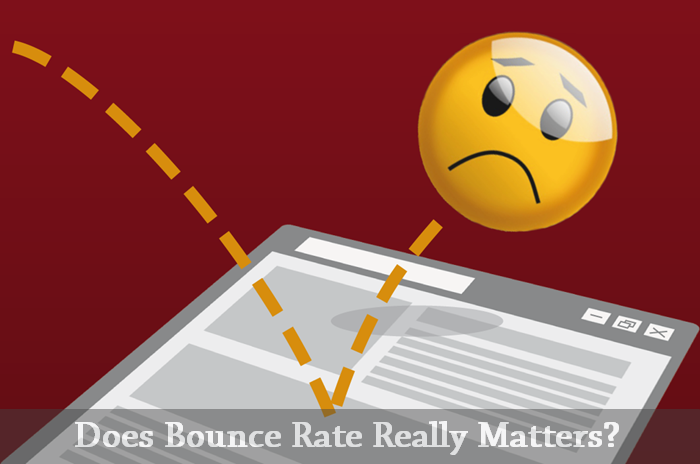 In a layman's' language, there are a number of visitors who visit your website, open a web page but do not click on any link or any information on that page and switch to other pages of your site.
Bounce Rate:
How Much Bounce Rate Is Good For A Website?
Well, this really depends on the type of a site. For example, if it is news website and the bounce rate is more than 70%, then it is really a good bounce rate for the news website.
But if your website is designed to generate more leads, then you should not accept anything less than 40%.
Bounce rate can become a matter of thought at times. When you check your websites' Google Analytics account, and you find that the bounce rate is more than 70%, you don't have to panic until or unless you are really working hard on optimizing your web pages for the SEO.
If you really want to convert your visitors to your leads, then you should take immediate steps to increase your bounce rate.
But if you haven't started with the SEO Practices but are reading this post for the bounce rate then it is advised to work on improving your website first.
Bounce rate is important for websites where a website owner has really spent hundreds of dollars on creating a website to generate more leads, but if you haven't really invested and is running your website without any hassle, then you don't have to worry about the bounce rate at all.
If you are an investor in real estate industry, then the bounce rate should be the main aspects of your online business.
Bounce Rate Can Impact Your Website Ranking:
The search engine considers lots of parameters to rank your website. One of those parameters being the signals given by the users.
Bounce rate is a kind of signal provided by the users who have visited your site and switched to the other pages without clicking on the main page. Good bounce rate can help you to stay your website on the top search pages for a longer period.
Bounce Rate Helps You Understand Your Website Performance In The Market:
Your bounce rate is an indication of how your website is doing in the online marketplace. If your website aim is to generate more leads and your bounce rate is more than 80% them, you must start working hard on your website to improve the bounce rate.
You can work on improving the bounce rate by joining popular sites that can guarantee to generate more leads for your website. Create exceptional content for your website that can keep people engaged on your page.