One of the primary reasons ranking of a blog drops is the speed of the website. Slow websites are unhealthy for SERPs and people visiting your blog. There are several reasons behind why a site slows down, and design of the website plays a crucial part here.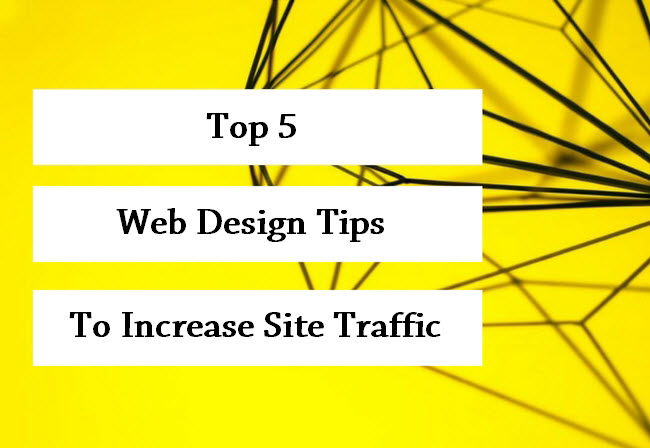 We have seen so many people making ridiculous mistakes in this area that we have decided to create a post with 5 tips on web designing for increasing your website's traffic. Check them out.
5 Tips On Web Designing To Increase Website Traffic:
1. Use CSS3 Background Gradients:

Got a background image on your website? Well, it's taking up all your bandwidth and bogging down the speed of your website. But don't worry there is a cure to this. All you need to do is use lightweight CSS3 gradients that will give your site an attractive and modern look.

There are free websites that allow you to generate CSS3 gradients and all you'll need to do is copy and paste the code into the stylesheets of your website.

2. Use Text Instead Of Images:

It's a fact that Google can't read images, so when you upload a picture in the header section of your site, SERPs like Google can't get a read out of them.

If your theme supports writing the name of the site on the header section go for it. If images are the only way forward, prepare the images by writing a caption and putting something in the alt text.

3. Theme With Responsive Web Design:

Whatever theme that you have on your website does it support mobile phones because as you already know, websites appear different on the handset? There are different web design needed for displaying your site on a smartphone.

If your theme doesn't support mobile devices, change it. There are several website builders available; you can go for anyone of them after fixing a budget.

4. Use CSS3 Transitions Instead Of Javascript:

JavaScripts tend to bring down the speed of a website greatly and which is why you should avoid it and replace with CSS3 transitions. There is a myth that JS is just required for pulling off cool looking design like that front page slider, but that's not true. Just search on Google on how to replace JS with CSS3 transitions.

It's a significant step towards putting an end to that poor browser experience and giving you audience the speed they deserve to keep consuming your content.

5. Mind Your Images:

Images are said to be the number one culprit in pulling the speed of a website down. At first glance, it might seem like a lost cause, but there are ways to check the effect of images on the loading time.

You need to make sure that you are uploading only jpeg images instead of png that tends to be bigger. Use small images and compressor tools to bring down the size of the image that will ultimately help in reducing the time of loading of your website.
That's it from our side. Let us know which of the above tips you employed to reduce the loading speed of your website and bring traffic to your site.