Every business start-up or a professional online business owner has set his or her online goals. If you are one of them and don't know your online goals or the path to achieving them, then you might be looking for something like us that can guide you on How to achieve your online goals? Here we go….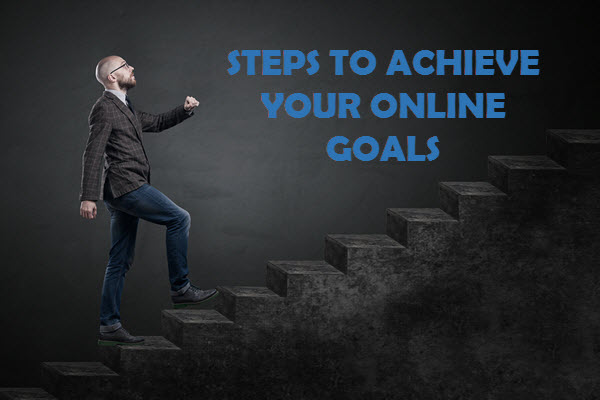 The first right step towards achieving your online goals is targeting right audience
If you have designed your website and you are not promoting it amongst the right audiences, and then believe us, you are just wasting your time, energy, and money.  The first step that we consider very important for achieving your goals is targeting right audiences at the right time and at the right place. Initially, you may get excited and try to promote your company, its products, and services to the people in masses, but what exactly is the use of such marketing campaign when you are not getting the desired results. Make sure you don't get over excited and have full control on your marketing strategies and tools that can bring more results than harm.
Learn some tricks to convert your audience to potential customer
When you are done with the first step, you need to lay emphasis on How to convert your audience to the potential customer so that you can earn profits. You need to compel your visitors so that they can turn into your Customers. While campaigning, don't forget to take their email addresses or any other personal contact details that you can use to contact them in future.  This may sound a bit easy but please note no one likes to give their personal email id to you until or unless you build a relationship of trust.
How to close a lead
Once you know the right audience and their personal details, you need to close the lead and turn your audiences to your customers. But, make sure you close the right lead at the right time with the right audience. You can use tools like CRM or we call it Customer Relationship Management and Feedback Reporting. This will keep you informed about the customer's interest in your products and their future interests as well.
How to keep your Customer active
Once the lead is closed, don't take your present customer for granted as he or she may look for some other solution in the case any of your competitors approach him or her. You need to keep your customer engaged all the time so that he or she contacts you directly in the case of any need. Make sure your customer is happy. You can send your company's Newsletter on a monthly or bi-monthly basis so that he or she is aware of your latest and upcoming offerings. You can even send occasional gifts so that your customer feels special and privileged to be a part of your team.
Hopefully, these simple tips will make your road to achieving your online goals simpler and better than ever.