Search Engine Optimization is one of the biggest tools to improve your web page ranking in the search engine. Although a lot many SEO techniques are available in the online marketplace but not every technique assures better results. You need to be careful enough and view these SEO techniques that you should never waste your time with. Here we go…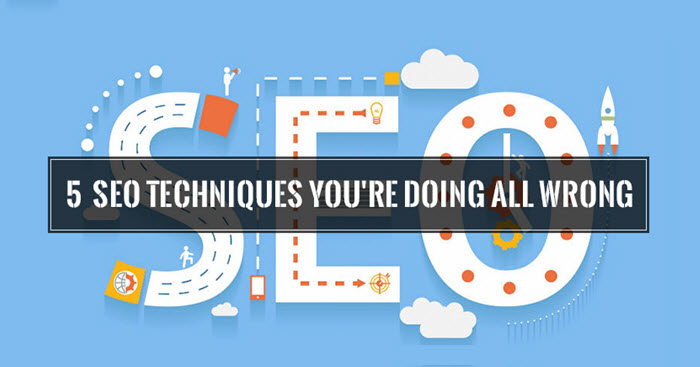 5 SEO Techniques You Should Never Waste Your Time With:
1. Back Linking:

Back linking, buying links, giving other website owners a space to back linking, and adopting other measures for back linking is quite a good enough ways of getting top-ranking?

But adopting wrong techniques can affect your website and make this one of the best practices the worst one. You need to consider few things so that your web performance isn't affected at any cost.
Don't promote your links on penalized sites.
Don't give any penalized sites a chance to link their website via your site.
Your links should be managed well and they shouldn't pop-up on a frequent basis. They should look natural so that audiences can't keep their eyes off it.
Back linking is one of the excellent ways of generating web traffic but it should be used wisely.
With the advent of Google's algorithm, link building strategies should be upgraded.
2. Improper Usage Of Link Building:
Sometimes, your web links or any other links that you insert aren't routed to the information that the audience search. This really isn't a good practice and irritates viewers unnecessarily.
While designing your website, you can focus on areas that relates to writing quality content, using online marketing strategies, and much more.
3. Keyword Stuffing Unnecessarily:
Most of the writers and online website designers stuff content with the keywords unnecessarily. This is rather a bad practice and leaves a bad impression on the audiences.
If you really want to improve your web ranking, you can keep your web content constraint to the keyword density. If you want to infuse keywords in your content, you can insert synonyms.
4. Optimized Guest Posting:
Guest posting is one of the finest ways of getting web traffic to your website. But by guest posting only, you can't get an assurance that your website would be ranked higher provided you inculcate content and information that is rich enough in educating viewers.
5. Using Anchor Tags:
Optimization of anchor tags was a quite prominent ways of getting higher ranking in traditional days but nowadays, if you are using optimized anchor tags, then you are inviting Google to penalize you and affect your reputation in the online marketplace.
Instead of anchor tags, you can use long sentences, linkages, and insert direct links.
Final Words:
Above are 5 SEO techniques that you should never adopt while promoting or improving your web page ranking. We have highlighted techniques that you shouldn't waste your time along with the alternatives or we call them solutions.
If you are following these methods, you can refer to solution part and give a chance to your website to improve its ranking. Hopefully, you find this information useful and consider it while following best SEO techniques.